The 2017 Fort Collins Comic Con took place on Saturday and Sunday, August 26-27, 2017, at the Northside Aztlan Community Center in Fort Collins, Colorado. (The next Fort Collins Comic Con is scheduled for August 25-26, 2018!)
I went on Saturday, arriving about twenty minutes early, taking one of the last places in the parking lot.
As I headed from my car to the front of the center, I walked past the Colorado Movie Cars section – which already had the Ghostbusters van, a Shield van, and a Zombie Destruction van. (I'm not familiar with the zombie genre, so I can't tell you if it was based on the TV series or a movie!) Soon to arrive was a Jurassic Park vehicle.
A trio of Avengers fans, part of "The Makeshift Avengers," that, like the Ghostbusters below, appears at charity events, posed for a photo in front of the Shield van.
A team of Ghostbusters from Fort Collins and one from Loveland had already set up their outdoor activities for kids. The Fort Collins Ghostbusters (as well as their Loveland compatriots) "are fans of the films that are dedicated to spreading goodwill and fun to youth organizations and charity groups." Bean bag tosses, a large blanket laid on the grass consisting of a blue sky with clouds on top, and a bit of a skyline below, which kids could lay and have their photo taken so it would look like they were flying, among other things.
There were a handful of other tables set up for kid's activities, including one where they could learn how to make little Pokemon characters out of craft paper.
I walked round to the entrance of the center. There were tables set up for people to pick up their badges – one for vendors, one for media, and a couple for attendees.
I followed the line into the building and stopped at the Information Desk to see what all was on offer.
I then moved around to the side where this year's official T-shirt was for sale, as well as past T-shirts and something called the Kessel Run.
I talked to the volunteer at the desk at that time who explained that the Kessel Run is another annual event put on to benefit the Poudre River Library District. It takes place every May 4 ("May the Fourth be with you"). (The Kessel Run, for those not familiar with the original Star Wars movies, is a smuggler's route between two solar systems that Han Solo mentions in the very first movie when talking with Luke and Obi-Wan Kenobi.)
The crew of the  U.S.S. Tiburon crew were opposite the Information Desk. Plenty of people were stopping by to learn about the group (the Fort Collins chapter of the world-wide STARFLEET fan organization), and have selfies taken.
The dealer/guest/vendor room was not due to open until 10 am, so I walked around the Center checking out the meeting rooms – each one identified by a banner, and checked out the panels in each one for Saturday.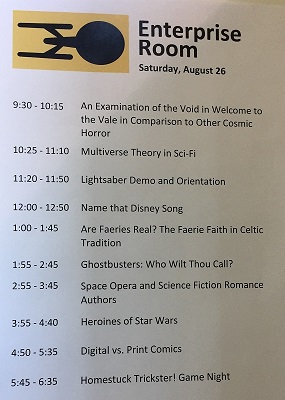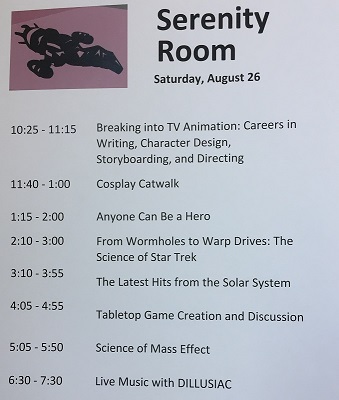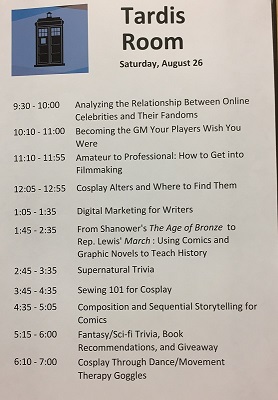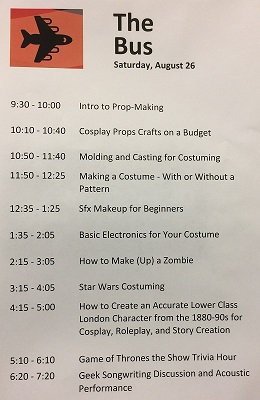 I stopped in at the panel on Intro to Prop Making.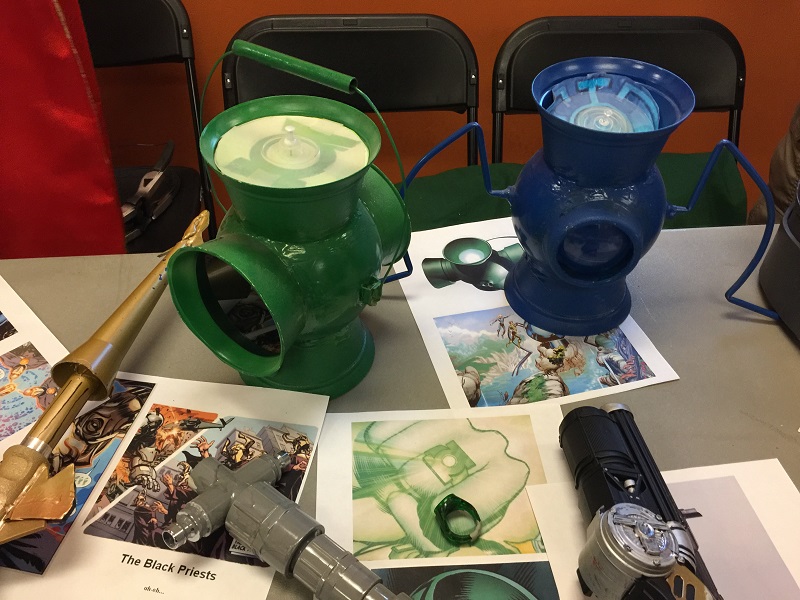 I walked up to the second floor where the board games room was already open, and then got a bird's eye view of the vendors/dealers/guests preparing their tables for the onslaught of fans at 10 am.
The doors opened precisely at ten am and the influx of attendees began.
I walked up and down each aisle, talking to a few people – both fans and vendors, and taking photos.
United Way had a table as well. The subject of their upcoming event, for the "Community Disaster Simulation: Zombie Apocalypse" to take place on October 21, 2017, resonates now that I'm writing this a couple of weeks later, thanks to the awful events going on in Houston, Texas and surrounding areas.
As I had wandered around, I filmed a few of the attendees and put together the following video as a cap for this article.
In summary, the Fort Collins Comic Con is a wonderful event, with proceeds benefitting a wonderful cause (the Poudre River Valley Library).
If you go:
The Northside Aztlan Community Center is located on the north side of Fort Collins, at 112 Willow St. The community center has a parking lot, but it will fill up early for this convention. There's parking on the side roads.
About Fort Collins
Fort Collins, Colorado is 46 miles south of Cheyenne, Wyoming on I-25S (or 64 miles north of Denver, on I-25N). It's three times as large as Cheyenne, with about 165,000 people as opposed to Cheyenne's 60,000. It's a college town (home to Colorado State University), with plenty of parks and places to ride bikes or walk.
There's something going on in Fort Collins, particularly in historic downtown Fort Collins practically every week throughout the year. Their events website is: http://downtownfortcollins.com/