The Candlelight Dinner Playhouse in Johnstown, Colorado begins its 10th anniversary season on September 7, 2017.
Here's a preview of the season.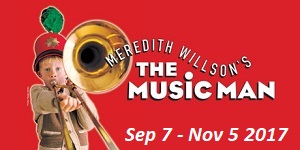 The Music Man (September 7 – Nov 5, 2017
The Music Man is a story in perseverance in more ways than one. From the time he got the idea for the story of con man Harold Hill who travel from town to town promising parents that he can turn their children into musical geniuses to its first production, Meredith Wilson had written almost thirty revisions of the script and over forty songs. After eight years, The Music Man made its Broadway debut on December 19, 1957, in a show with only 20 songs! Robert Preston played Harold Hill and the late Barbara Cook starred as Marian the librarian.
Wilson was a prolific song-writer and scored a handful of motion pictures. The Music Man was his first musical, he followed it up with The Unsinkable Molly Brown, Here's Love (a musical version of Miracle on 34th Street), and 1491 (which never made it to Broadway despite having John Cullum in the lead role as Columbus).
When the Candlelight Dinner Playhouse first opened its doors in 2008, The Music Man was the very first production on their proscenium stage. For their tenth anniversary season, they decided that it was time for The Music Man to return to their stage.
The 2017 production stars Bob Hoppe as Harold Hill and Alisha Winter as Marian Paroo. Also in the cast are Scotty Shaffer as Marcellus Washburn and RJ Wagner as Charley Cowell. Annie Dwyer, most recently seen as the Fairy Godmother in Candlelight's Cinderella: The Slipper and the Rose, appears as Eulalie Shinn and Tom Mullin has the role of the Mayor.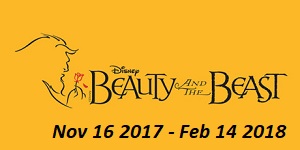 Disney's Beauty and the Beast (Nov 16, 2017 – Feb 14, 2018)
In 1991, Walt Disney Pictures released the animated Beauty and the Beast, which became the first animated film to be nominated for Best Picture. It lost in that category but did win an Academy Award for Best Original Score.
All the songs for the film, written by lyricist Howard Ashman and composer Alan Menken, were present when the movie was adapted into a musical in 1993, including
"Be Our Guest" and "Beauty and the Beast." Six new songs were written by Alan Menken and lyricist Tim Rice (as Ashman had passed away in 1991).
Linda Woolverton, who had written the screen version of the movie, also wrote the adaption for the musical.  She developed the characters of both the Beast and Beauty more fully, and also raised the stakes for the castle servants. Also cursed by the enchantress who turned the rude prince into a Beast, the servants are gradually turning into castle-hold objects as the musical progresses, and once the transformation is complete, they will merely be…objects.
The Candlelight's production of Disney's Beauty and the Beast will run from November 16, 2017 and come to a close, appropriately, on Valentine's Day, February 14, 2018.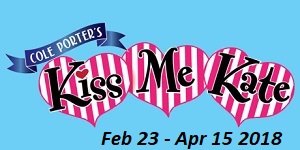 Kiss Me Kate (February 23 – April 15, 2018)
Fred Graham, the director and producer of a musical production of William Shakespeare's The Taming of the Shrew, is also playing the lead role of Petruchio. His ex-wife, Lilli Vanessi, is playing Katherine. One of the actors in his company has lost $10,000 to a gambler and has signed Fred's name to the promissory note. The gambler sends two gangsters to the theatre to collect, but that's the least of his problems. Lili Vanessi intends to abandon the production at the most inopportune time.
The book for Kiss Me, Kate was written by Samuel and Bella Spewack, successful writers for both movies and the theatre who also had a volatile personal relationship almost mirroring that of Fred and Lili.
Composer and song writer Cole Porter had had plenty of hits during the 1930s with such musicals as Gay Divorce (with Fred Astaire) and Anything Goes (with Ethel Merman). His musicals of the 1940s had not fared quite as well, but the 1948 production of Kiss Me, Kate was a hit. "Another Op'nin, Another Show," "Too Darn Hot" and
"True to You in My Fashion" are the most well-known of its songs.
At the Candlelight, Kiss Me Kate will run from February 23 to April 15, 2018.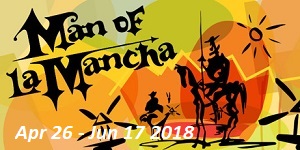 Man of La Mancha (April 25 – June 17, 2018)
The idea for Don Quixote came to Miguel Cervantes while he was being held in prison in 1597, although this was for suspected embezzlement and not because he was to be questioned by the Spanish Inquisition! The first part of Don Quixote was published in 1605, when Cervantes was 58 years old and living in poverty. Its success enabled him to live in comfort for the remaining years of his life. He died on April 22, 1616, one day before William Shakespeare.
Don Quixote is a gentleman of La Mancha who spends so much time reading romances that he comes to believe in them, and fashions armor for himself so that he can go about the countryside righting wrongs. His family and friends take drastic measures to bring him back to reality.
In 1959, Dale Wasserman, a TV writer at the time (who would go on to be a playwright and screenwriter) had a teleplay called I, Don Quixote produced. In it, Miguel Cervantes is in a prison with several other inmates waiting to be questioned by the Spanish Inquisition. He has with him a book which he refuses to show to the other prisoners, until they force him to tell them a story. Cervantes then tells a story in which he becomes Don Quixote and his fellow prisoners portray other characters that interact with him.
This teleplay was adapted to a Broadway musical in 1964, with Joe Darion providing the lyrics and Mitch Leigh the music. It was a hit, running for 2,328 performances and winning five Tony awards. Originally, Rex Harrison (My Fair Lady) was to have starred, but his voice proved unequal to the task and Richard Kiley replaced him. Memorable songs are "I, Don Quixote (Man of La Mancha)" and "The Impossible Dream."
The musical would be adapted to film in 1972, with Peter O'Toole playing the role of Cervantes/Quixote.
Man of La Macha will run at the Candlelight from April 25-June 17, 2018.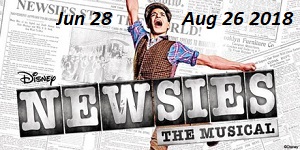 Newsies the Musical (June 28 – August 26, 2018)
In 1992, Walt Disney Pictures released a musical drama film called Newsies, which takes place in 1899. Throughout New York City, young boys called "newsies" buy newspapers at a discounted rate from publishers, and then stand on street corners to sell them. When newspaper publisher Joseph Pulitzer raises the price the newsies have to pay for the papers, the boys, led by young Jack "Cowboy" Kelly, decide to go on strike.
This 1992 film was not a success, although it has gained a cult following over the years, and in 2011 it was adapted into a musical which would make it to Broadway in 2012. The book was written by Harvey Fierstein, with music by Alan Menken and lyrics by Jack Feldman – who had also written the music and songs for the film. Some of these songs had to be rewritten as changes had been made to the love interest of "Cowboy" which had to be reflected in the songs.
Songs for Newsies include "Watch What Happens" and "Seize the Day."
Newsies runs from June 28-August 26, 2018.
Season tickets for the Candlelight Dinner Theatre are available at this link.