Candlelight Dinner Playhouse continues its 10th anniversary season with Disney's Beauty and the Beast, which audiences will be able to enjoy from November 16, 2017 to February 14, 2018.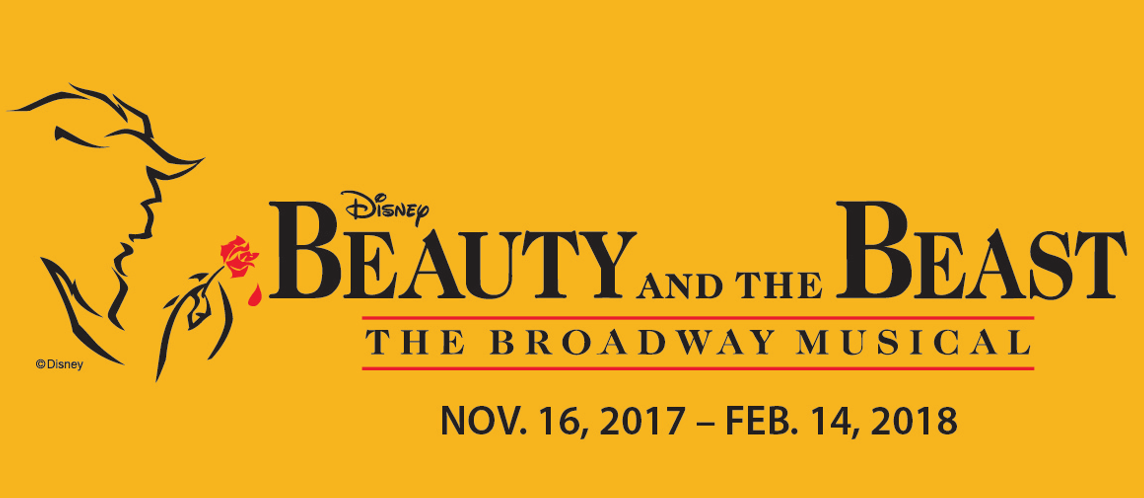 The Production
The Food
The Keepsake(s)
The Contest
The Production
In 1991, Disney released its 30th animated film – Beauty and the Beast, to both critical and popular acclaim – it was the first animated motion picture to be nominated for an Academy Award for best picture.
For the stage, the movie was adapted by Linda Woolverton, with songs from the movie by Alan Menken and Howard Ashman, and additional songs written by Tim Rice. This theatrical version ran on Broadway from 1994 until 2007, and remains popular in regional and touring productions to this day.
The Candlelight Dinner Playhouse's production of Beauty and the Beast, co-directed and co-choreographed by Jessica Hindsley and Kate Vallee, brings this much-loved fairy-tale to life, with a suspenseful story, appealing characters, a despicable villain, and plenty of theatrical magic on display.
In a far off land, separated from a provincial town by a wolf-infested forest, an arrogant young prince (Kalond Irlanda) lives in a castle full of servants. Ten years prior, an elderly woman had asked the prince to let her stay the night in his castle, offering him a beautiful red rose in return. He can't see its beauty or her need, and refuses her entrance. The woman is actually a witch, who proceeds to curse him- and the servants in his castle. He is turned into a terrifying beast, and his servants are cursed to transform, gradually over time, into household objects that suit their personalities.
Now, ten years later, time is running out. If the curse is not soon lifted – by the Beast being able to love a woman who in turn will love him – he will stay a Beast forever and his servants will become inanimate, losing all consciousness of themselves as they once were.
Meanwhile, in that distant provincial town, beautiful young Belle (Katie Jackson) dreams of traveling and having adventures. She is thought odd…different…because she likes to read books. Her father Maurice (Kent Sugg) is a dreamer as well – but an impractical one, but who hopes one of his inventions will win him a prize and enough money to take Belle on the travels that she so longs for.
Gaston (Eric Heine), tall, muscular, handsome, is a hunter who has his choice of beautiful woman, but he wants – and expects – Belle to consent to be his wife.
Belle's father sets out for a far-off town where he intends to display his invention, but he becomes lost in the wood, chased by wolves (losing a scarf, a gift from Belle, in the process), and seeks shelter in the Beast's castle. Although the servants welcome him, the Beast finds and imprisons him. When Belle sees Lefou (Ethan Knowles) – Gaston's sidekick – wearing her father's scarf that he had found in the woods, she goes in search of him. She finds him in the Beast's castle, and agrees to remain there if the Beast will let her father go.
The Beast – and his servants led by Lumiere (Bob Hoppe) and Cogsworth (David Wygant) – know that their time is running out, and this will be their only opportunity to break the curse. But how can the Beast persuade Belle to love him, let alone learn how to love her?
Irlanda succeeds in the difficult task of conveying emotion – anger, bewilderment, despair – with body and voice alone, as his face is obscured by his Beastly makeup. His powerful voice is on display during his solos "How Long Must This Go On?" and "If I Can't Love Her."
Jackson as Belle is appealing as a spunky young woman – she stands up for herself to Gaston and later, though clearly terrified, to the Beast, and yet once the Beast displays vulnerability she does begin to care for her.
Eric Heine as Gaston is the villain you love to hate – though the irony that he is what the young Prince was before the witch turned him into a Beast is not lost on the audience. However, by Gaston's very demeanor you know that he would never have been able to learned to love anyone more than he loved himself!
David Wygant as Cogsworth and Bob Hoppe as Lumiere also shine. It's with Cogsworth that we first learn that the servants are still transforming into objects, as a wind-up key suddenly appears on his back. The comic timing of Wygant and Hoppe is fun to watch.
There are several musical numbers by the whole ensemble, choreographed by Hindsley and Valley – including "Gaston" featuring Gaston, Lefou and the company – displaying Gaston's incredulity and rage that Belle has rejected him, "Be Our Guest" featuring the castle servants, and "Human Again," also by the servants.
The sets – castle, woods and provincial town- are charming.
The only false note is the forest wolves. Actors dressed in grey costumes, they look more like Morlocks with their glowing red eyes than ordinary wolves in search of a meal.
The Food
For this production, the Candlelight Dinner Playhouse features Appetizers of Spinach Artichoke Dip, Crab Cake, Charcuterie Plate or Shrimp Cocktail. Entrees included in the price of one's ticket are Pork Aux Champignons (broiled porkshop smothered with mushroom gravy), Chicken Dijon (broiled airline chicken breast topped with creamy Dijon sauce), Parmesan Crusted Tilapia, Ratatouille (oven baked tomatoes, zucchini, eggplant, onion and bellpepper) or a Ceasar Salad. The Signature Meals (for an additional prie) were Grilled Prime Rib, Duck a L'orange, and Crab Cakes.
The themed drinks featured:
The Beast: a martini combining violet liqueur and Absolute Citron in a glass rimmed with sugar and rose water
Mrs. Pott's Tea: Leopold Brothers Apple Whiskey, hot cinnamon apple tea, and seasonal flavors.
Gaston's Mule: Leopold Brothers Apple Whiskey mixed with ginger, orange and cinnamon flavors
Beauty's Kiss: Leopold Brothers Rocky Mountain Blackberry and New England Cranberry liqueurs mized with Cupcake Moscato, lemon and Sierra Mist.
The Curse: Vanilla vodka, Grey Goose La Pore, and Domaine de Canton.
The Keepsake(s)
A program is always a fun keepsake from a theatrical experience, but for certain productions the Candlelight has more to offer. For Beauty and the Beast, they offer a rose, which when turned on and off will light up with a different color.
The program no longer contains that production's menu with an explanation of the "themed entrees" unfortunately. The menu is at your table and removed once you order.
The Contest
In celebration of their tenth anniversary season, there is now a large heart sculpture outside the Candlelight, containing 29 different images of past productions at the Dinner Playhouse.
Guests can fill out a form with their contact info and name each of the productions embodied in the 29 images. Each week there's a weekly drawing for a complimentary dessert!
How to Get There
The Candlelight Dinner Playhouse is located just off Highway 25, a few miles from the city of Johnstown. Take Exit 254 and follow the Frontage Road past the Johnstown Corners travel center. Turn left at Marketplace Drive (using as your landmark a huge sign for Lazydays Loveland RV center.
There's plenty of parking in their parking lot.
Productions are Thursday through Sunday nights, with Saturday and Sunday matinees
Theatre-only tickets are also available. These seats are on the balcony level which offer an excellent view of the stage.