I visited Burns, Wyoming for the first time on March 21, 2017.
It was on a whim – I was originally heading east on Highway 80 to Pine Bluffs (37 miles away from Cheyenne, on the very cusp of the border between Wyoming and Nebraska) when at the 29 mile mark I saw to my left the cityscape of a clearly tiny town that had two – two – water towers.
I had never seen such a small town with two water towers, so I decided that I would pay it a visit and see if I could discover the significance of the two towers.
This cityscape belonged to Burns. I took WY-213 North to check out the town – a 2 mile drive from the 213 exit off of Highway 80 to the sign for Burns itself. Just before you get to the town of Burns you'll pass a rather neat (as in organized) junkyard on both sides of the road.
The sign pointing to Burns didn't share its population, (but according to the Burns Library librarian, whom I spoke to later) there are about 300 people living in the confines of this city.
I turned left onto a paved road, Fourth Street, also Rd 213.
The very first buildings I drove past on my right were what looked like a brand new elementary school adjacent to a brand new junior/senior high school, with a new looking track and sports field. (According to the town clerk, these schools had been built in 2010, and they were the reason for the second water tower. The city planners had just wanted to make sure that there's be plenty of water if needed for fire safety. School children come from the surrounding homes, farms and ranches in addition to the kids living within the Burns town limits.)
I took the first right that I could, which was on an unpaved road, and drove up and down the handful of streets – all unpaved, looking around. There were many small, charming houses, with attractive landscaping. (It's always fun to see how people in different towns decorate the exterior of their homes, and their lawns and gardens.)
I eventually found the "heart" of Burns – the paved road of Main Street on which were the town's government building, a post office, a bank, a library, and a Masonic lodge, as well as a small park with a bandstand.
Here is a Tiny Town Guide to Burns. (Download a more complete version, as a PDF,  from our Tiny Towns Project page.)
Turn left from WY-213 North onto Rd-213/Fourth Street, which is paved.
Take Fourth Street past the schools. You'll pass a few roads that go only to your right – first Jackson and then Wyoming. You'll then pass a couple of houses on your left.
The next intersection is the paved Main Street, which you'll know because there's a stop sign on the right hand side of the road. It's also the only road on which you can turn either left or right.
If you turn left, Main Street takes you to old Highway 30, which you can take to your right, or you can head left to get to the onramp for I80. To your left, at this juncture will be the Antelope Truck Stop – a gas station, convenience store, and restaurant that serves both Indian and American food.
Turn right.
The first building you come to on your right will be the Burnsplex, which houses the Burns Town Hall, the Blessed Hope Baptist Church, a Shepherd's Closet and the Burns Cafe.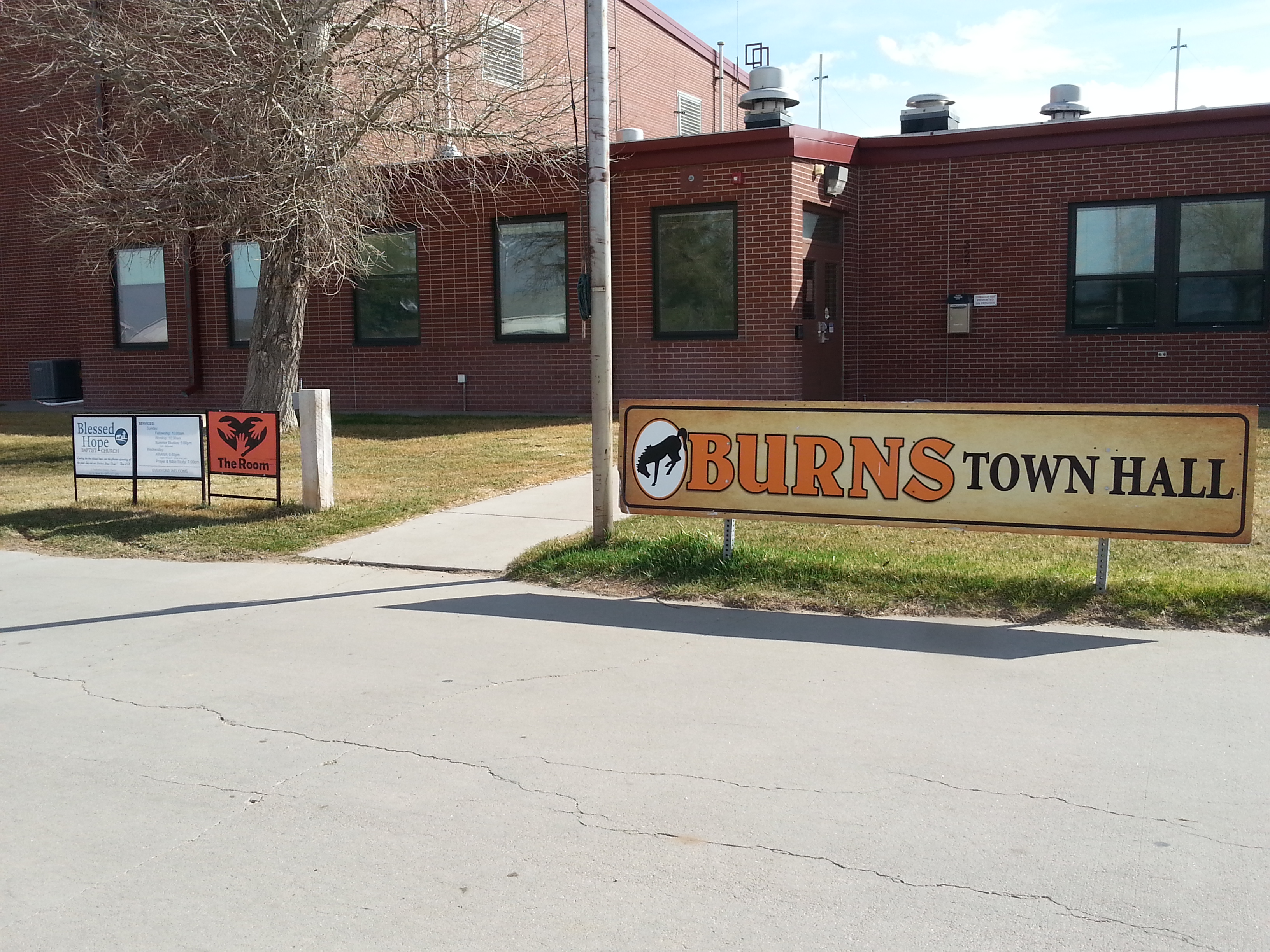 To get to the Burns Cafe, Burns' only restaurant, walk past the entrance to the building, turn right at the corner. and walk a few yards to a ramp that leads into the building). The Burns Café is a new restaurant, open since late 2016, and they are still in the process of getting signage.
If you are a foodie, or a collector of food experiences (eating a meal in each tiny town you visit) then stop in here. It's open from 9 am to 8 pm Monday through Saturday.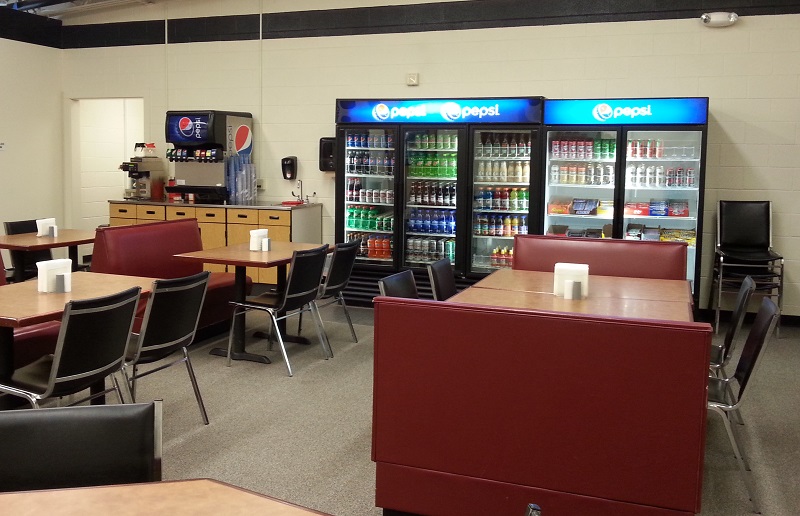 The Burns Café is housed in a large, light-filled room with plenty of tables, a big-screen TV to watch while you're waiting for your food (or you can browse their selection of Cowboys & Indians magazines if you prefer).
They offer standard American food – hamburgers, pizzas, chicken nuggets, and a wide selection of drinks – either fountain or in bottles or cans.
If you prefer to have a meal after you've explored the town, then just continue down Main Street until you come to the town sign (marred, from a photogenic standpoint, by the Keep Right sign!).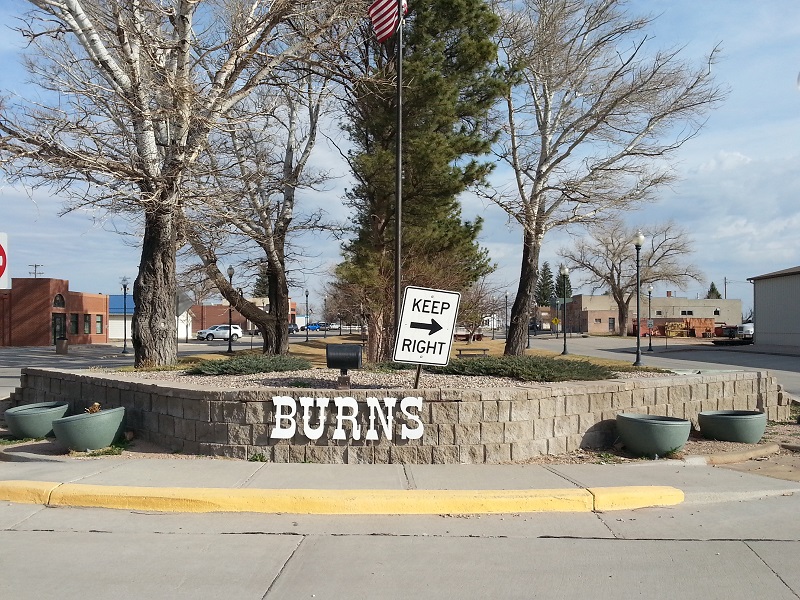 Keep right, but go straight, until you get to First Street, and turn left in a sort of U-turn around the center island so that you come back down Main Street. The first building you pass on your right will be the Burns Post Office. (You can park here, or anywhere on this block.)
Be sure to have a postcard with you that you can mail from the Post Office (if you are there during office hours) and ask for a special Burns cancelation. (If you don't ask, the mail is sent to Cheyenne and canceled there.)  [See the Tiny Towns Project page if you'd like a Burns-specific postcard to send to yourself.]
The Burns Post Office is open Monday through Friday from 7:30 to noon and from 1 pm to 4:30 pm. On Saturday it's open from 7:30 to 9:30. On Sunday it's closed.
Next, if you are a collector of Tiny Town libraries, stop in at the Burns Library. I always find it fun to see what kind of selection of books a tiny library will have. The Burns library is part of the Laramie County Library District – library patrons can order books to be delivered from the Cheyenne library if they wish).
The Burns Library hours vary wildly:
It's closed Sunday and also on Wednesday. Monday it's open from 1 pm to 5 pm, Tuesday from 10 a to 5 pm. Thursday, 10 am to 7 pm. Friday 10 am to 5 pm, and Saturday, 9 am to noon.
In this, my first visit, I walked along the stacks and saw this book standing up as one of the "recommended" books – looked interesting.
A Tiny Town may have its history in a variety of places, but one great place to check is the library. Here you will learn that Burns was originally called Luther. (They've got a couple of signs to this effect on the walls.) It was founded by German immigrants in 1907 who first thought of calling it New Berlin but eventually chose Luther in honor of Martin Luther. By 1910 it was called Burns. (wyomingplaces.pbworks.com/w/page/23108174/Luther)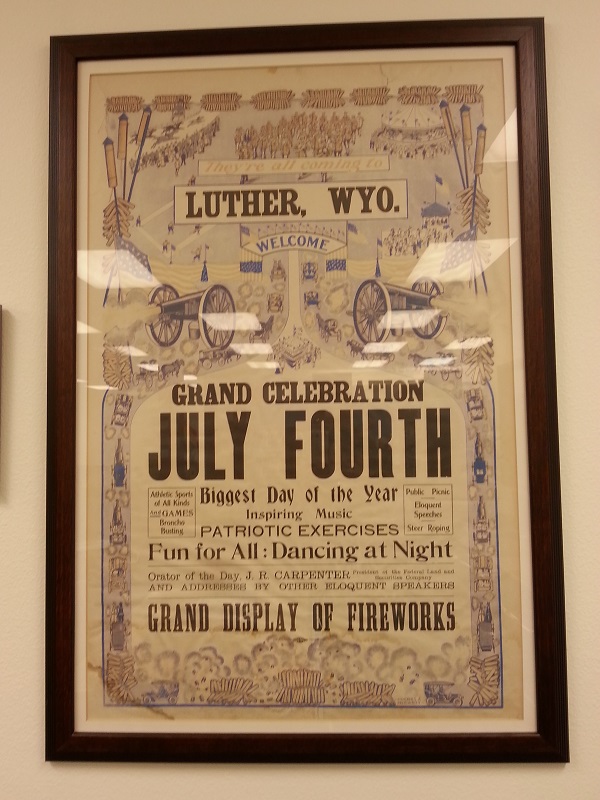 Further along Main Street is a bank and a Masonic Lodge.
After you've visited the Post Office and the Library, you can drive up and down the rest of the roads of the town to see the two churches, and take a look at the houses, before returning to Main Street.
Burns Cemetery
The Burns Cemetery is a small cemetery just outside the town limits. Take Main Street in the other direction, past Fourth Street/RD 213, toward Highway 80 and Old Highway 30.
The cemetery will be just a couple of miles up the road, on your left. There's no sign on the road, but you'll see the grilled ironwork of the fence surrounding the cemetery.
As you first enter the cemetery you'll see to your left a few monuments to the Pavlica family. This is what is interesting about visiting old cemeteries – to see how those that have passed on are remembered.
A Site to See on Old Highway 30
Take Main Street back toward Highway 80. You'll see an arrow pointing toward the Highway 80 ramp on your left/east, as well as the Antelope Truck Stop on your left.
Turn right/west onto the Service Road (which is part of old Highway 30, and which is actually sign-posted as Highway 30 the closer you get to Cheyenne).
Drive for about 10 miles, until you see a series of wind-activated sculptures in the vast grounds to your right. This is a man's house and grounds and his collection doesn't appear to have a name, but he's got a sign saying Visitors Welcome and there are a lot of fun sculptures to see. They are really fun to watch on a windy day – and since normally days are always windy in Wyoming, you will be in for a treat.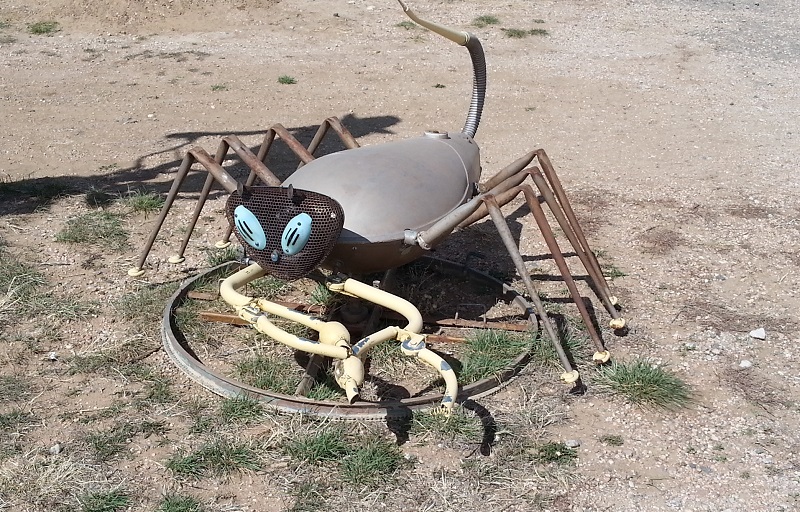 Article History
first created: March 21, 2017