I should preface this post by saying that an in-depth description of the travels leading up to this adventure in Ten Sleep will come at a later time. For now, let's cut to the chase:
Ten Sleep Brewing Company really knows how to a brew a good beer.
Wondering how I arrived at that conclusion?
Let's just say that yes, just like thousands of hipsters from the Front Range, I'm a BIG fan of craft beer (but I'm not a hipster). I'm a REALLY big fan of craft beer. So much so that I can add three consecutive Great American Beer Festivals to my list of "Cool Beer Events that I've Been To (and You Probably Haven't)."
Needless to say, it's always been my imbibement of choice and I go out of my way to check out a new establishment when I'm going about my travels. Luckily I've got friends who are of the same craft beer persuasion.
I bet you can imagine that this was just the case just after a backpacking trip in the Bighorn Mountains over the Fourth of July weekend.
All we could think about during the 40+ mile trip was how good a beer would taste after we were done. Around every bend on the trail we would mention something like, "Dang, it sure would be nice to sip on a tasty brew after we're done hiking," or later in the evening, "If only we had a cold one to go with this campfire…"
The cravings got bad. Really bad — even to the point where we were brainstorming how to manufacture a lightweight beer so that backpackers could pack it into the back country (read: Alka-Seltzer and freeze-dried beer crystals, mayhaps? I digress…).
Anyway, by the time we got off the mountain we were more than ready for a cold brew. Enter: Ten Sleep Brewing Company! Holy cow, was this place a sight for sore eyes. We quickly commandeered a spot at a picnic table under some Russian olive trees. The spot was shaded, our moods were good, and the pitchers were cheap.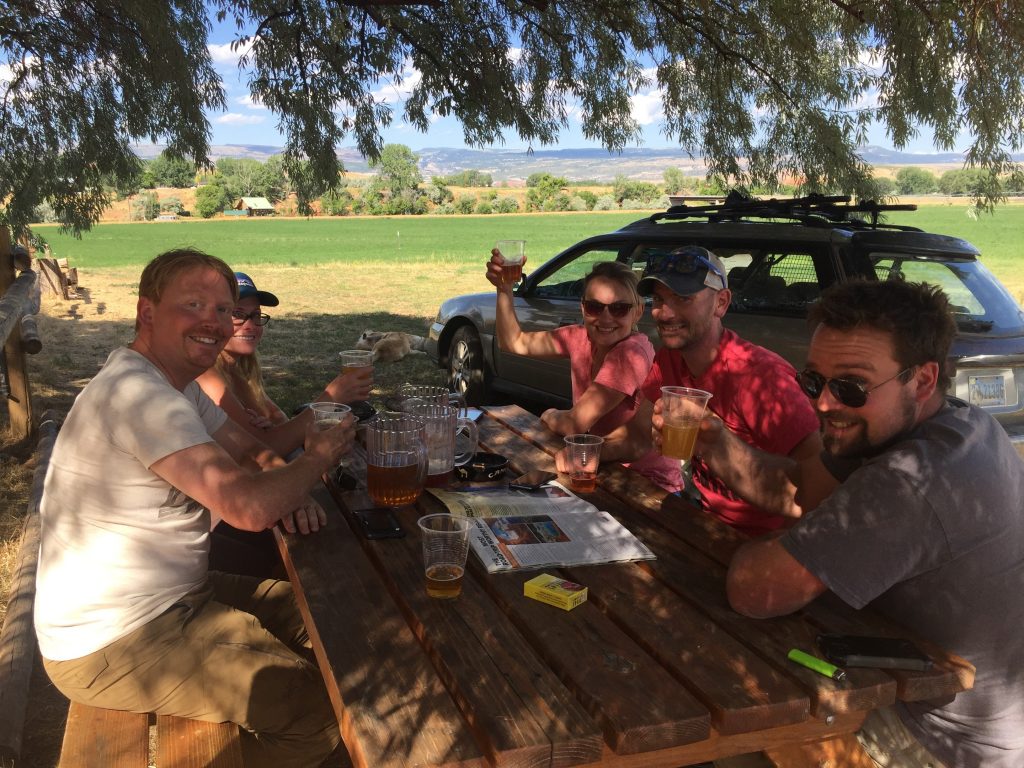 Since we happened to arrive there during a big climbing festival (Ten Sleep is pretty popular for avid climbers), there was a hefty crowd inside the barn-turned-brewery. Having A/C would've been great but sitting outside was fine by us.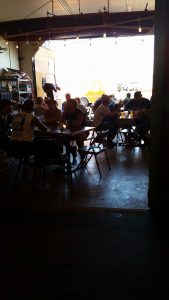 Couldn't have asked for a more satisfying couple of hours of beer bliss before hitting the road back to Cheyenne. If you get a chance to stop by Ten Sleep, I highly recommend making a stop at this brewery!
How to Get There
Ten Sleep is located in the foothills to the west of the Big Horn Mountains, and has a year-round population of about 300 people! Tourists come from near and far for both summer and winter activities.
Ten Sleep is about a 5 hour drive north of Cheyenne on I-25. It's a 3 hour drive south from Billings, Montana on US 310-E. (Drive times always depend on traffic and weather conditions.)