In a small Colorado mountain cabin in 1869, Edwin Carter began to amass what would become one of the most extensive collections of Colorado fauna in existence. A museum was born when he offered to sell his entire collection to a group of Denver citizens for $10,000; the Colorado Museum of Natural History opened on July 1, 1908 with Carter's collection as its nucleus.

The Museum has, for many decades, been at the forefront of archaeological and paleontological research as evidenced today by the skeletons of prehistoric creatures that stand and hang in many parts of the Museum.
In August of 2017, a dinosaur fossil was unearthed in the north Denver suburb of Thornton as a new public safety facility was being constructed. Several bones and a complete tibia of "Tiny," a very rare Torosaurus, are now being prepared by Museum scientists and volunteers. Visitors can watch as Tiny's bones reveal the story of his past in the Fossil Prep Lab, located in the Prehistoric Journey exhibit.
A centerpiece of the Museum has always been its wildlife dioramas. More than 80 wildlife and habitat scenes from around the world educate and fascinate visitors. In the mid-1900s, museum staff traveled to six continents where they collected specimens that were painstakingly recreated into the realistic dioramas we see today.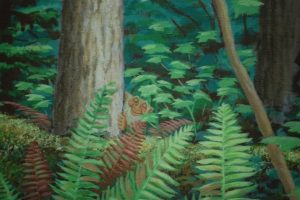 Prior to receiving its current name in 2000, the Museum was simply called "The Natural History Museum." A visitor of that time could ask at the information desk for a printed list of "Museum Secrets" and embark on a quest to find elves hidden in nine of the wildlife dioramas. Artist Kent Pendleton, when painting the backgrounds for several of the dioramas, hid tiny elves—most painted but some ceramic—amidst the shrubs and grasses. The tradition continues today with three more scavenger hunts added, available to download from the website. On the Museum's website, look at PLAN YOUR VISIT > FLOOR MAPS AND SCAVENGER HUNTS for family fun.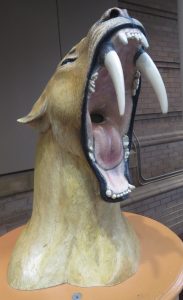 Just past the guest services desk in the main lobby sits a ferocious-looking sabre tooth tiger who has been eating coins and roaring at her feeders for more than 40 years. Her synthesized roar beckons all who pass by, so if you visit the museum with children, come prepared with a pocketful of coins!
A visit to the Denver Museum of Nature & Science will surely become a family favorite, a place to experience again and again. Each visit will open doors into a place that is constantly evolving. Plan to spend time where you will be entertained, educated, and amazed—The Denver Museum of Nature and Science.
IF YOU GO—
DENVER MUSEUM OF NATURE AND SCIENCE
2001 Colorado Blvd.
Denver 80205
303-422-7009