Are you saying to yourself, "Geocaching?  What on earth is that?"
Most folks have never heard the term, so you are not alone.
As explained on the activity's website: "Geocaching is an outdoor treasure hunting game using GPS (Global Positioning Satellite)-enabled devices.  Participants navigate to a specific set of GPS coordinates then attempt to find the geocache (container) hidden at that location." 
Would you like to know more?  Read on . . . . .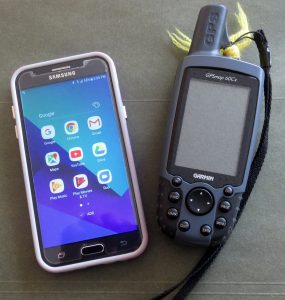 The activity known as geocaching put down its roots in 2000.  Today, millions of players throughout the world use a GPS-enabled smart phone or a hand-held GPS to find cleverly hidden treasures called "geocaches" or "caches."  There are currently more than three million caches hidden in over 190 countries.  There might very well be one in your neighborhood, in the parking lot at the grocery store, or around the corner from your office.  There will likely be a cache or two hidden wherever you travel.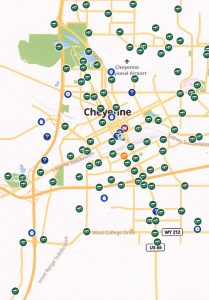 It is quite possible that you could hunt every day and never run out of caches to find.  Currently, there are about 26,000 "hides" in Colorado; 9,500 in Nebraska; 6,000 in Wyoming with more than 200 located in its capital city of Cheyenne.  Look at the map of caches around Interstates 25 and 80 in Cheyenne; each of the dots represents a unique geocache.
It is easy to start geocaching:
Create a free geocaching account at geocaching's official website (see below). This gives the geocacher access to the GPS coordinates for millions of caches.
After logging into your account, enter a city or zip code for the area where you would like to search. You will see a map and a list of all the geocaches in the area.  Click on a geocache and you will be given the GPS coordinates and other information about the cache.   GPS coordinates look like this:  N 39° 55.662′ W 104° 56.662′.  When you match the given coordinates with what  displays on your GPS device, you will be close to the cache location and ready to start hunting for it.  Some hidden containers are easy to find and some are a bit trickier, but the hunt is the fun part.
Once you find the cache, sign and date the logbook that is inside the cache. Replace the cache exactly where you found it, then share your experience on-line via the geocaching website.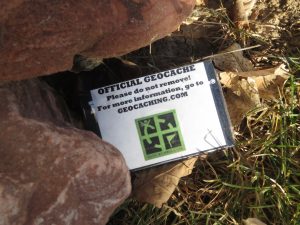 Members of the geocaching community hide the caches; the website explains the procedure for doing this.
You might find a hide under a rock in a field where there are no other rocks. (Hint:  Look for something that doesn't belong.)  Each cache's website listing has a title that might give you a clue.  (Hint: "Colorado's State Tree" is hidden in a Colorado Blue Spruce.)  The cache owner might include a hint in the cache description. (Hint: "Look for a bit of nature.")  Hunting for the cache is when you need to use your imagination and sleuthing skills.
The container you are seeking might be as small as your thumbnail, a plastic storage container, a magnetized tin box or, a large ammo box.  It can be well-camouflaged or easy to spot.  The container might be tiny, just big enough to hold the cache log.  Some are larger and hold small toys or trinkets.  The geocaching rule is that if you take out a trinket you then replace it with one of your own.  Sometimes a "trackable" will show up in a cache container.  If you find one of these, log your find using the website's "trackable" instructions then re-hide it in the next cache you locate.
Geocaching is an activity for folks of all ages to enjoy any time, any place.  If you enter your city of residence into the geocaching website's search feature, you will see that you had better start geocaching soon.  There are lots caches waiting to be found!

WANT TO TRY GEOCACHING?
To sign up for a free basic membership: https://www.geocaching.com
For answers to all your geocaching questions: https://www.geocaching.com/guide/