If you've ever wondered if time travel is possible, look no further. Buffalo, Wyoming holds a secret key to the past that only the wayward traveler gets to experience. This town is where the Wild West runs rampant — you can feel yourself step back in time the minute you step foot on Main Street.
To get there, be sure not to blink too fast while driving past it on I-25 because you just might miss it, as it's a town of only about 4,000 people. Buffalo is a 4.5 hour drive north from Cheyenne, or a mere 2.5 hours southeast of Billings, Montana.
It seems to be quite content resting in the shadow of its ritzier, big sister city Sheridan, Wyoming (just 36 miles to the north). The wide open spaces in front of and behind you will surely make you think you're in the middle of nowhere.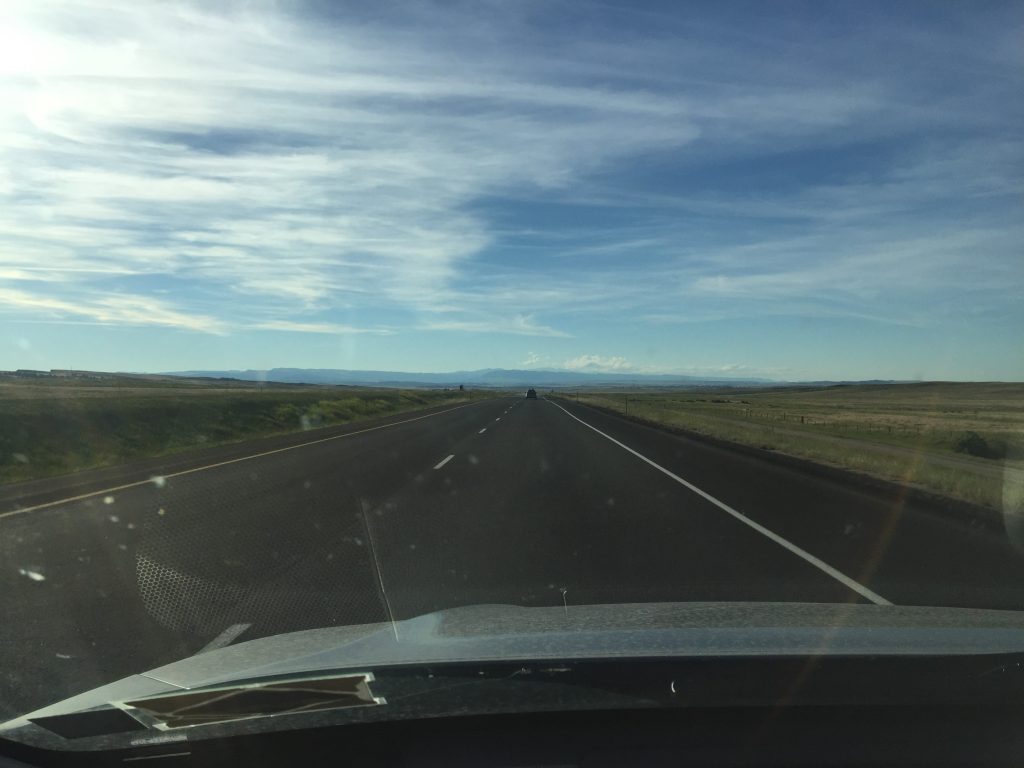 But that's just the thing — you're not in the middle of nowhere! You're right at the base of the Bighorn Mountains and you have access to some of the best outdoors in the entire state of Wyoming.
Buffalo's "off-the-beaten-track" allure keeps the "on-the-beaten path" tourists at bay. It makes more room for those of us who want room to breathe and a whole new kind of experience that you can only find in Wyoming.
My most recent stay in Buffalo was a Friday night layover before embarking on a backpacking trip to Cloud Peak Wilderness (more on that adventure in a future post!). We wanted to show our out-of-towner friends from California what quintessential Wyoming is like without all the touristy hullaballoo. Boy, did we deliver!
There were six of us going on this trip so we decided to post up for the night in a two-room cabin at the Mountain View Motel and Campground. The price and location were ideal — it's just a 10 minute walk from Main Street and has a suite of cabins/tent sites to choose from. There's even a central spot with camp chairs, tables and grills for guests to gather.
The real coup-de-grace of our time in Buffalo was enjoying the evening at the Occidental Hotel and Saloon. Forget the Old West you've come to know from Hollywood. This was a remnant of the real thing!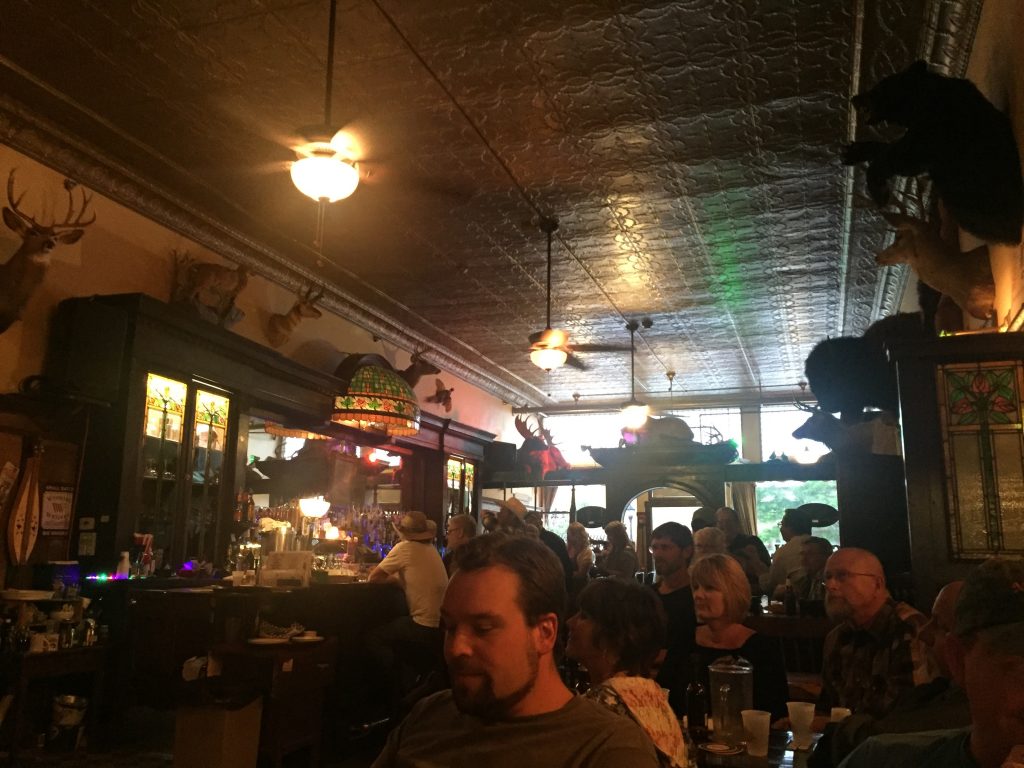 I wish I could say we stayed at the hotel but alas, summer is peak season so the prices were a bit out of our range. Instead, we made our way to the saloon portion of the Occidental. You'll be amazed to see that the bar is fully restored to its Old West glory.
Walking through the front doors is like being transported back in time — you can almost hear the player piano and smell the whiskey in the air. There are even gunshot holes still in the walls from the days when the West really was "wild."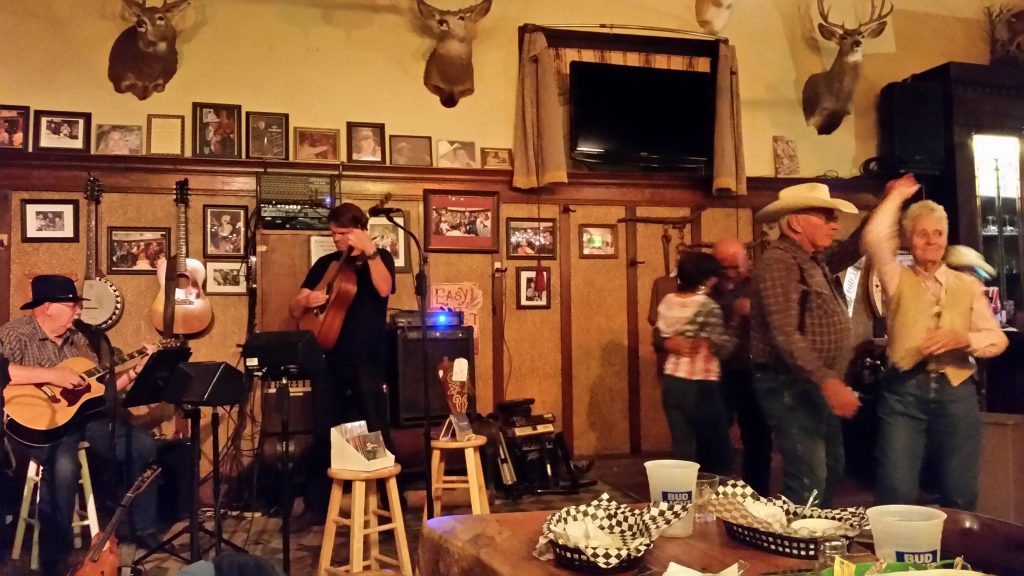 Aside from the large selection of craft beers from Wyoming and Montana, the best part of our visit to the saloon was the live band – the Bittercreek Band.
These guys play every Friday and Saturday night and are every bit as good as a professional band from Nashville. There's never a cover and you can drink/eat yourself into a coma if you really want. A full bar menu is available until 10pm. Otherwise you can go next door to the Virginian Restaurant for a real bonafide Wyoming steak (and say goodbye to some hard earned $$, since the menu is pretty pricey).
All in all, the experience was as Wyoming as it gets!  I look forward to heading back to beautiful Buffalo again someday. Maybe next time we can get a taste of the "Bordello" room at the hotel and cap it off with a T-bone steak!
About Beth
Beth Callaway is an avid road tripper, mountain biker, music fan, beer aficionado and lover of all things Wyoming. She regularly tries to venture off the beaten path when #travving (usually with her dogs and husband in tow). She resides in Cheyenne, Wyoming.
See the index of Beth's articles for Wyoming in Motion: Blazin' Trails with Beth